Nomadic: Stories of Art and Science

Nomadic.0910 is an initiative of the University of Porto, that will explore the many possibilities of interdisciplinarity offered by various University resources: schools, courses, research institutes, projects.
These will be brainstorming throughout the year, and will surface at different times and spaces. From performances to exhibitons, from conferences to competitions.
THE CONFERENCE
The conference with duration of one day is structured into the three main sessions:
Between Cultures
Fifty years after the publication of the Snow's lecture The Two Cultures and the Scientific Revolution, the idea is to acknowledge hybrid places. Should the debate be reconfigured?

On Display
In a sense, the need of an audience distinguishes art and science. But placing science in society is now on the agenda. We have been witnessing the growth of science outreach in recent years. Art-science collaborations in public engagement of science projects are a new face of science. Why is science displayed through art? The idea here is to focus on making things visible. We will enter the science museum, look at the display and conservation of the cultural record and may be an artist's view on portraying the invisible will add a new insight.

Stories in the History
In the analysis of the historical isolation of science from the arts we must not ignore stories of collaboration and mutual influence. Some of these stories – crossing natural sciences, visual arts, literary thinking, film, music or even economy – will be presented.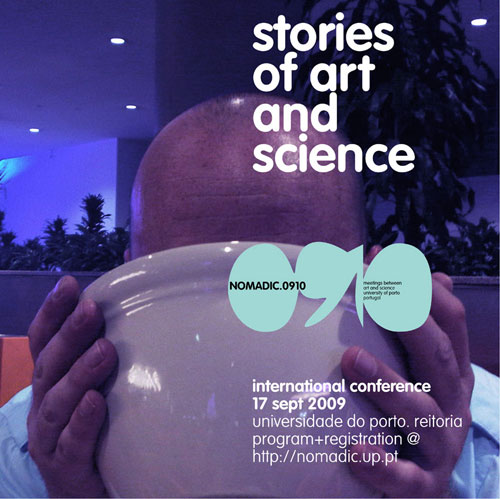 Speakers include:
* Michael Punt: Provisional Connection
* Monique Sicard: Between Painters and Scientists/The Paradox of the Concomitant Emergence of Pictorial Abstraction and Photographic Realism
* Shirley Wheeler: Tracing the Invisible
* Maria Esteva: Endless Possibilities: Digital Collections as Crossroads between the Humanities and the Sciences
* Len Massey: Drawing the Invisible
* Jane S. Richardson: Drawing 3D Protein Structures
* Laura Salisbury: A Neurological Modernism: Language, Materiality and the Twentieth-Century Word
* David A. Kirby: Big Screen Science: Scientists' Backstage Role in the Production of Hollywood Films
* David Frankel: Visuality/Sound and the Economy
* Deanna Petherbridge: George Stubbs' Comparative Anatomical Exposition (1795-1806) and its Relationship to Theories of Degeneration of the Primordial Species
* Daniela Coimbra: Psychology, Music and Performance
* Vincent Barras: Report on an Art-Science Doctoral Program: Neurosciences, Psychopathology and Arts, XX-XXIth C.
Chairs and keynote speakers include:
* Alexandre Quintanilha, IBMC, ICBAS
* Artur Pimenta Alves, INESC Porto, FEUP
* Filomena Vasconcelos, FLUP
* Marcos García, Media Lab Prado
MORE INFORMATION AT: http://nomadic0910.wordpress.com/

...................................................................................................................................
International Symposium on
Electronic Art
Singapore is the stage of the 2008 International Symposium on Electronic Art (ISEA), from July 25th until August the 3rd. ISEA is the world-leading event for the discussion of creative applications of science and technology, especially the interactive and digital media.
The symposium has the following structure: a peer reviewed conference, an internationally juried exhibition and various in-conjunctions and partner events. ISEA has also organised an Artists in Residence programme, supported by the University of Singapore, and will showcase 16 international and local artworks as a result of 2008 residences in Singapore.
This year conference will reflect the way the proliferation of information, communication and experimental technologies changed the art field and the critical problems and possibilities of a world infused with technology.
You can find works that explore biology, ecology, nanotechnology, and other. For instance, on nanotech Christina Nguyen Hung will talk about a project that combines biomaterials, streaming media and military imagery. On this project, American Vectors, images of bacteria cultures are printed in the shape of air strips located at major U.S. airbases in Iraq and then are streamed live via webcam. Dmitry Bulatov presents a living future of nonorganic life nanotechnologies in contemporary art. Dmitry Bulatov is an artist, researcher, curator and an art theorist. His research focuses on aspects of interdisciplinary science and art media, such as, robotechnics, genetic engineering and nanotechnologies. The Portuguese artists Maria Lopes and Marta de Menezes will also present their views on science and art interactions at this symposium.
Further information at: http://www.isea2008singapore.org/
...................................................................................................................................
Science and Film
The Center for Study of Film and History will conduct its 5th biennial conference "Film and Science: Fictions, Documentaries, and Beyond" in Chicago, from October the 30th to November the 2nd.
A wide range of areas, concerns and historical eras will be represented at this conference, including scientific icons, animation, exploration, extraterrestrials, forensics and the work of filmmakers such as David Cronenberg and Steven Spielberg.
Amongst the featured speakers will be the special-effects legend, Stan Winston. Also scheduled for the plenary sessions are the renowned scholars Wheeler Winston Dixon, author of Visions of the Apocalypse, Disaster and Memory, and Lost in the Fifties: Recovering Phantom Hollywood and Sidney Perkowitz, author of Hollywood science: Movies, Science, & the End of the World. The conference will also host Roger Launius, chief historian of NASA until 2002 and currently curator in the division of space history at the Natural Air and Space Museum.
Further Information at: http://www.filmandhistory.org
...................................................................................................................................
Bioart Seminar

Kilpisjärvi Biological Station is hosting a Bioart Seminar on the 29th
and 30th of May 2008 at Kilpisjärvi, Finland. Kilpisjärvi Biological
Station is part of Faculty of Biosciences, University of Helsinki.

The Bioart Seminar will gather international key players in Bioart and
Finnish representatives to discuss future directions in bioart and
ultimately to establish a Finnish association in bioart.
Bioart Seminar – Programme / Poster